Tablets and iPads are becoming more and more popular in the classroom. They are used as practise tools and are sometimes included into the school's/teacher's curriculum. Using tablets and iPads can be extremely beneficial! However, there can also be some pitfalls…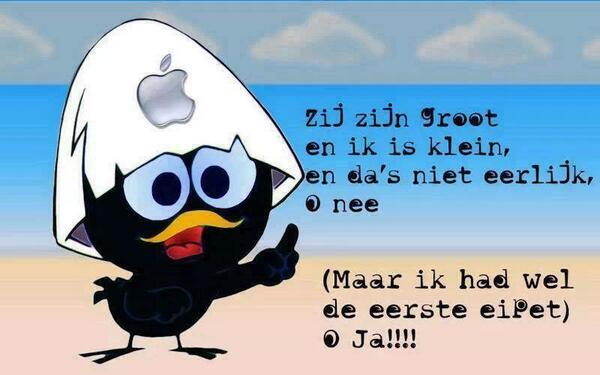 Source photo: twitter (private) .
At my WPL1 placement school, tablets and iPads were (and probably still are) included into the curriculum of the first-year havo and vwo students. When evaluating the lessons I've observed, I find that there is one main problem:
– A lot of the students actually pretend to be reading the texts or doing the exercises, while they are actually playing games and sending messages to each other instead.  –
However, I'm of the opinion that it's not the tool that stimulates this kind of behaviour; it's the way the teacher teaches his or her students. When all lessons solely exist of the teacher assigning the students a X number of exercises from the courseware, while sitting behind his or her desk for the whole of the lesson… things tend to go wrong.  It's definitely not engaging; there's a huge lack of variation in the lessons.
Source photo: https://sites.psu.edu/siowfa16/2016/10/12/when-in-doubt-write-it-out/ .
I personally believe that using tablets and iPads in the classroom can be very beneficial -for both student and teacher-! That's why I'm going to focus on the positives from now on 🙂 :
Most of the students love using a tablet or a iPad! However, when using a tablets/iPads in class, students also learn how to use them (and their apps). It's very important that students know how navigate through them as our society gets more and more technology-oriented.
 It's a (big) investment, buying a tablet or iPad. However, students/teachers/schools should keep in mind that the courseware that's digitally available is often much cheaper than courseware in the form of a book. Additionally, there's this huge advantage of not having to drag your books around :).
There's also a huge variety of tablet/iPad apps available. Students don't even have to bring their dictionaries to class anymore; they can just download a free dictionary app. Plus, looking from a different perspective, teachers can create such fun, engaging and authentic lessons using all those kinds of different apps.
Students can use their tablets/iPads as an agenda; this way students will be reminded of important homework/assignments through notifications.
Tablets and iPads are much smaller than laptops; it's much easier to monitor your students and their tablets/iPads :).
As I've mentioned before, the tablet's/iPad's success or misfortune in the classroom mostly comes down to how the teacher teaches his or her lessons (at least, I believe so). I'm not quite sure whether or not I'd like it if tablets/Ipads were to be incorporated into my lessons each day… However, one thing I do know: I definitely look forward to 'experimenting' with a tablet/iPad and it's available apps during my next school placement!
One last note: below is a link to an interesting article that discusses 20 ways to use a tablet (iPad) in the classroom. I really liked the article!
https://www.theguardian.com/teacher-network/2016/feb/17/20-ways-to-use-a-tablet-in-the-classroom
I hope you like(d) reading this blog post! There will be a new post up tomorrow..